If you already have a successful brick-and-mortar pet store, you might be wondering if you should spend the time, money, and energy to create an online shop. An ecommerce website is a great way to reach new customers, whether they live near your physical location or across the country. Plus, an online shop can allow your local customers to easily check your stock levels, purchase items for in-store pickup, and order products for same-day delivery.
While building an online pet store might sound expensive and intimidating, thanks to ecommerce platforms like BigCommerce and Shopify, it's actually cheaper and easier than you might assume. Not only does Shopify offer a free trial, but they also have a variety of templates made especially for businesses dedicated to selling food, accessories, and supplies for dogs, cats, birds, reptiles, small pets, and fish. Not only are these pet store themes attractive, they include drag and drop page builders, making it easy for you to create an attractive and functional store even if you don't have a lot of technical knowledge.
Plus, Shopify comes with built-in marketing tools to help you grow your business, and they have a single dashboard you can use to manage your store's payments, shipping, and orders. In addition to lots of attractive themes, Shopify offers more than 6,000 apps you can use to add functionality and features to your ecommerce website, and they have 24/7 support, so there will always be someone to help you along the way. If you're convinced it's time to build an online store for your pet brand, then you have to check out some of our favorite Shopify themes for pet shops!
Minion — Classic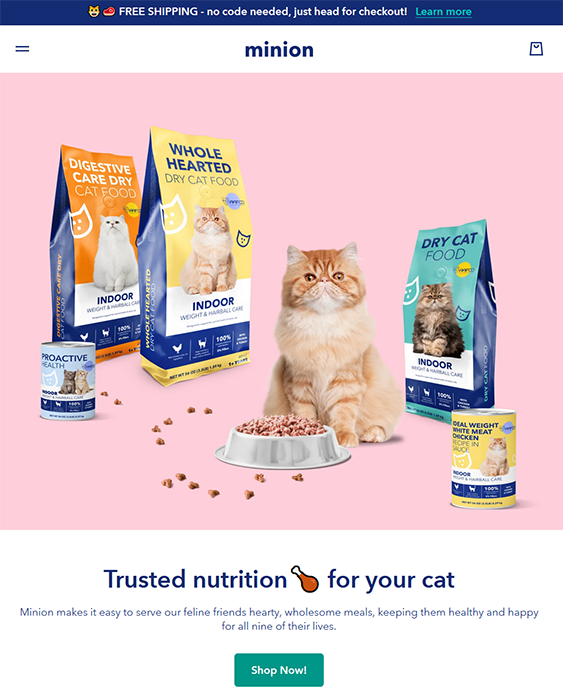 Minion — Classic is made especially for selling wet and dry cat food online, and it has a clean design and a responsive layout. This OS 2.0 Shopify theme also comes with three types of navigation, support for dropshippers, a mobile first design, quick setup, support for high volume stores, sections for ingredient, usage, nutritional, delivery, and shipping information, EU translations for English, Spanish, Italian, German, and French, quick view, product and trust badges, a customizable contact form, in-menu promos, an FAQ page, a stock counter, a store location, press coverage, product video support, image galleries, enhanced search, free theme updates, speed optimization, and more.
Boost —  Bloom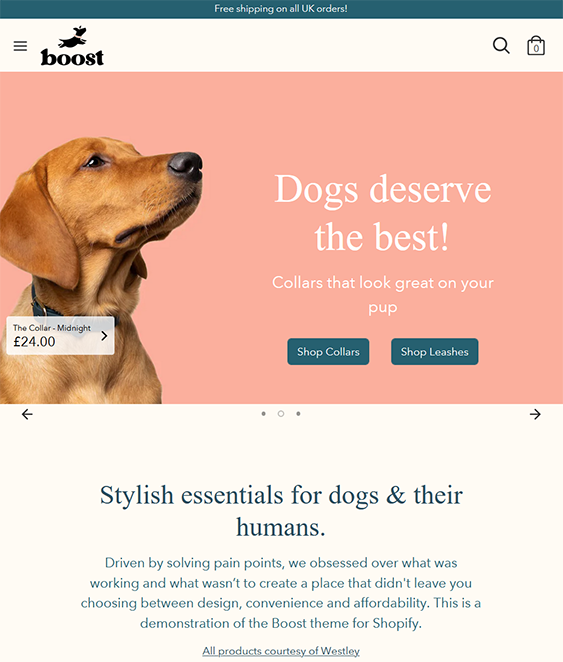 This responsive Shopify theme is designed for ecommerce websites that sell dog leashes, collars, walk sets, poop bags, and poop bag holders, and it features editorial content, SEO and performance optimization, immersive content, customizable promotions, advanced product filters, flexible sections, a drag and drop page builder, cart notes, a contact form, a quick buy feature, in-store pickup support, blogs, support for product reviews, promo tiles, popups, and banners, support for highlighting recommended and recently viewed products, free high resolution images, lookbooks, a slideshow, product tabs, image zoom, galleries, color swatches, size charts, product options, image hotspot support, a non-expiring license for one store, and more.
Minion — Vertical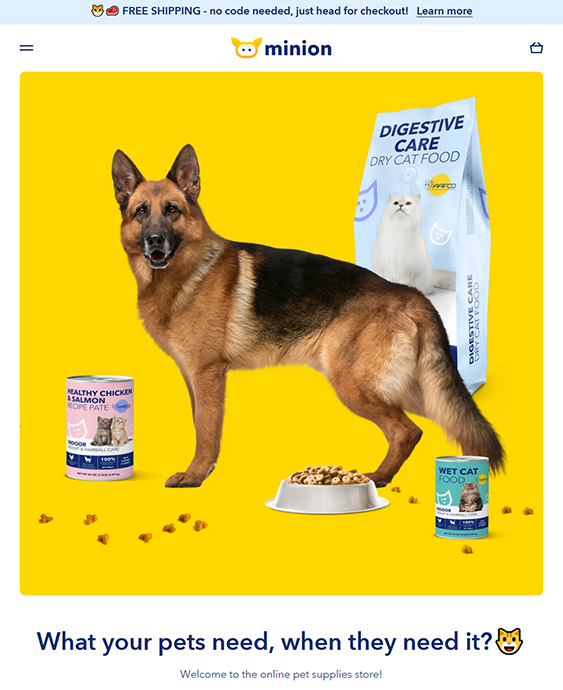 If you need to create an online pet shop to sell food, toys, clothing, beds, carriers, collars, medications, and supplements for dogs, cats, fish, birds, reptiles, and small pets like guinea pigs and hamsters, then you have to check out this mobile-first Shopify template. Minion — Vertical has drag and drop sections for creating custom pages, support for dropshippers, three navigation options, support for in-store pickups, a sticky cart, in-menu promotions, quick view, free stock images, support for product videos, breadcrumbs, swatches, product sorting and filtering, an unlimited free trial, and more.
Minion — Tiles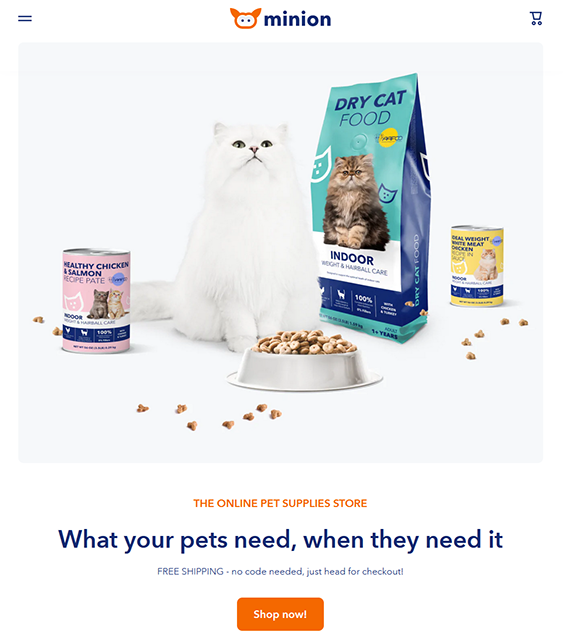 This minimalist Shopify theme is perfect for online pet supply stores that sell products for dogs, birds, reptiles, small pets, fish, and cats, as well as veterinary pharmacies, pet hotels, and groomers. Minion — Tiles includes flexible blocks for quotes, products, videos, and images, a responsive design, support for large numbers of transactions, cart notes, EU translations, trust badges, product tabs and options, support for sharing recommended products, a sticky header, free theme updates, free high-resolution photos, and more.