A recent report found the global gift market is currently worth approximately $62 billion, and it's projected to grow to more than $68 by 2024. Another study found when US consumers are looking for gift inspiration, 36% of them check out retailers' websites, indicating how important it is for online store owners to position themselves as great sources for gifts.
Obviously, it's extremely important for online retailers to offer features that will make them more attractive to people who are shopping for gifts, such as gift wrapping, gift registries, and gift cards. Fortunately, for people who use Shopify to manage their online stores, there are multiple gift-related apps available for this popular ecommerce platform. For those who aren't already using Shopify, they're currently offering a free trial, so they can try it out without making a long-term commitment.
Gift Reggie
With Gift Reggie, you can easily add a wishlist feature and a gift registry to your online store, which your customers can use to tell their friends and family members what to get them for holidays and special occasions. This Shopify plugin lets people share their wishlists and registries on social media, it has a white label design, it comes with dashboards for you and your customers, and it includes customizable staff and customer email notifications for registry actions.
Wrapped: Add Gift Wrap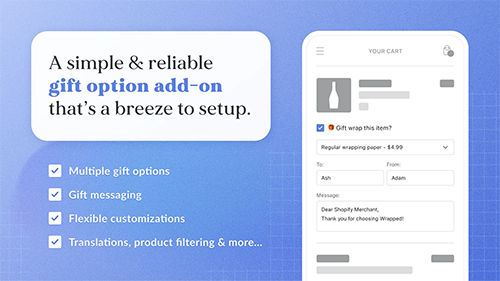 If you want to provide a gift-wrapping service to your online store's customers, then Wrapped might be the right solution for you! With this Shopify app, you can use widgets to add gift options to various areas of your ecommerce website, including on cart and product pages, and it comes with support for multiple gift options, such as standard, deluxe, and eco-friendly wrapping paper. Plus, Wrapped comes with a super simple editor you can use to customize the appearance of the widgets, it allows your customers to include personal messages with gifts, and it has a responsive design, making it compatible with mobile devices.
Gift Card Pro
This Shopify app enables you to sell digital gift cards to your customers that will be sent directly to the recipients via text or email, and it comes with support for bulk ordering so that they can send gift cards to as many as 1,000 email addresses in a single order. Gift Card Pro comes with 50 gift card designs for your customers to choose from, but you can also upload your own designs, and it gives your customers the ability to include notes and recorded video messages with gift cards.
Gift Lab | Gifting Suite
Gift Lab not only lets your customers choose to have items gift-wrapped, but it also gives them the ability to choose their desired delivery dates, purchase greeting cards, and include text and video messages with presents. This Shopify app comes with support for multiple languages, it allows you to offer multiple gift wrap options, and it will recommend products for your customers to add-on to their orders.
Giftnote Digital Gift Messages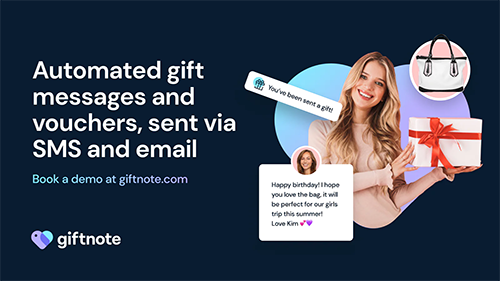 With Giftnote, when someone purchases a present from your online store, they can choose to include a video message that will automatically be sent to the recipient via text or email within 30 minutes of the item being delivered. This Shopify plugin is compatible with more than 600 different shipping carriers all around the globe, including UPS, DHL Express, and Australia, and it comes with a detailed analytics dashboard where you can review your store's gift revenue.
Giftship: Premium Gift Options
Giftship not only allows your customers to purchase gifts from your ecommerce website that will be sent directly to recipients — complete with gift wrapping and personalized messages — but it also lets them build gift boxes filled with items they've selected for their friends and family. Plus, this Shopify plugin comes with a delivery picker, so people can choose when they want gifts to be delivered, and it allows your customers to ship to multiple addresses without having to create multiple orders.