According to a recent study, since 2011, the amount people spend on their pets has increased by 115%, and the pet industry is projected to reach more than $358 billion by 2027. While people used to have to go to brick-and-mortar stores to buy products for their cats, dogs, reptiles, and fish, thanks to the advent of the internet, 86% of pet guardians shop online for products for their animal companions.
Obviously, there's a thriving market for online pet stores, and if you want to create an ecommerce website to sell pet food, treats, accessories, clothing, and gear, you're probably going to need an application to help you build and maintain your shop. Thankfully, Shopify — one of the most popular ecommerce applications on the market today — comes with lots of features designed to make it easy to run an ecommerce site dedicated to pretty much any industry. Plus, there are multiple Shopify themes and apps made especially for online pet stores, and we've picked a few of our favorites to feature below. Also, Shopify is offering a free trial right now, which means you can give it a try without needing to make a long-term commitment.
Petlytics: Pet Store Marketing
With Petlytics, your customers can create profiles via your online store for each of their pets by providing their photos, names, ages, breeds, birthdates, and genders. This Shopify app comes with a detailed analytics dashboard where you can analyze your company's sales based on these demographics, giving you insight into which breeds and pet types generate the most revenue for your business.
PetPro AI
PetPro AI also lets your customers create profiles for their pets by supplying their breeds, body conditions, ages, and species, and they can match products in their purchase histories with each of their animals, making it easier for them to figure out which items they need to reorder. Plus, this Shopify plugin will recommend new products to shoppers based on the information they've provided, helping them to discover items that are actually relevant to their pets' needs.
Upscale — Amber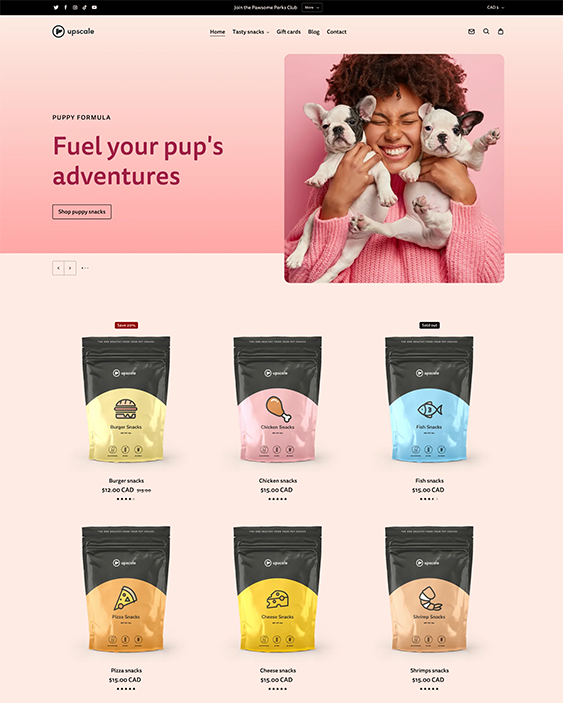 Upscale — Amber is perfect for selling snacks and food for dogs and cats, and it includes a stock counter, quick view, conversion optimization, OS 2.0 compatibility, optimized filtering, navigation, and search, cross-selling support, in-menu promos, color swatches, EU translations, support for high volume stores, a slide-out cart, dropshipping support, blogs, visual storytelling, support for gift wrapping, trust and product badges, promo tiles, banners, and popups, an FAQ page template, in-store pickup support, a customizable contact form, press coverage, image galleries, image hotspot support, animations, a slideshow, sections for shipping and delivery information, product options and tables, image rollover effects, a sticky header, free high resolution photos, and more.
Champion — Vivid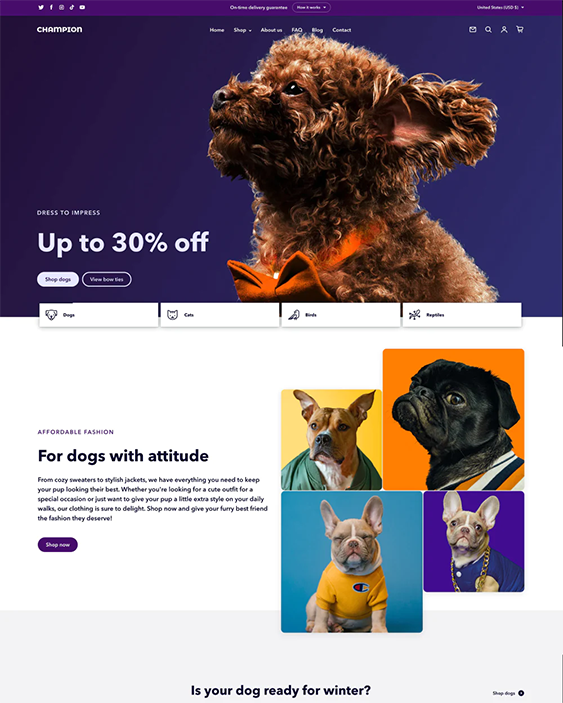 If you need to build pet clothing, treats, toys, shoes, food, collars, supplements, leashes, and beds, then you have to see this responsive Shopify theme. Champion — Vivid comes with multi-language support, a mega menu, swatches, custom product badges, a flexible design, drag and drop sections and blocks for creating custom pages, support for flash sales, quick setup, support for high volume stores, a quick buy feature, banners, support for showcasing recommended and recently viewed products, tabs, product videos, an unlimited free trial, and more.
Fetch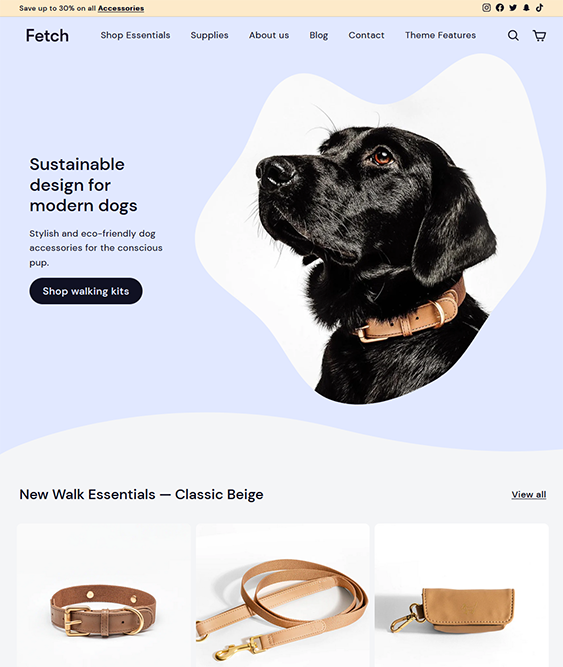 This clean Shopify template is designed for selling dog collars and leashes, and it has an age verifier, a countdown timer, English, French, Italian, German, and Spanish translations, quick add to cart, cross-selling features, blocks for images, quotes, videos, and product, support for dropshippers, slide-out and sticky carts, support for physical stores, a blog, pre-order support, popups, a before and after image slider, lookbooks, sections for ingredients and shipping, delivery, usage, and nutritional information, tabs, a back to top button, product sorting and filtering, collection page navigation, breadcrumbs, free theme updates, and more.
Paper — Pull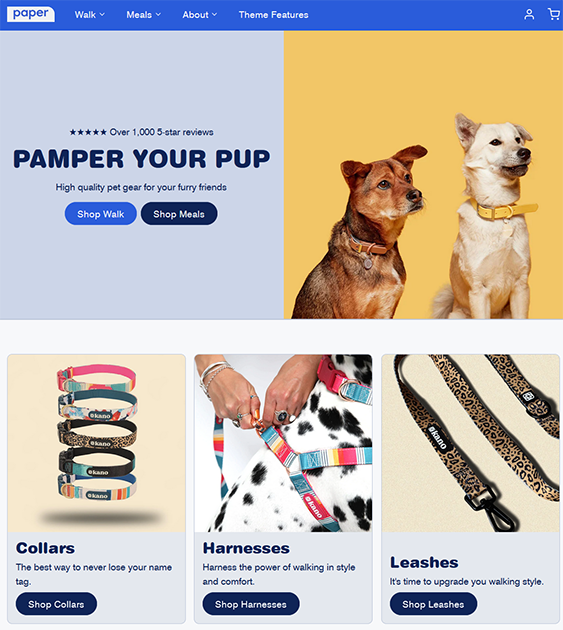 Paper — Pull is made especially for ecommerce websites dedicated to selling pet colors, harnesses, leashes, and food, and it offers a built-in age verification feature, support for large product catalogs, a conversion-boosting design, a dark mode, cart sharing, a user-friendly store builder, support for stores that process a lot of transactions, promotion popups, tiles, and banners, sections for ingredients, nutrition, usage, delivery, and shipping info, a scroll to top button, infinite scrolling, a slider, a non-expiring license for one store, free high resolution stock photos, and more.
Petoies – Pet Shop & Pet Accessories Responsive Shopify 2.0 Theme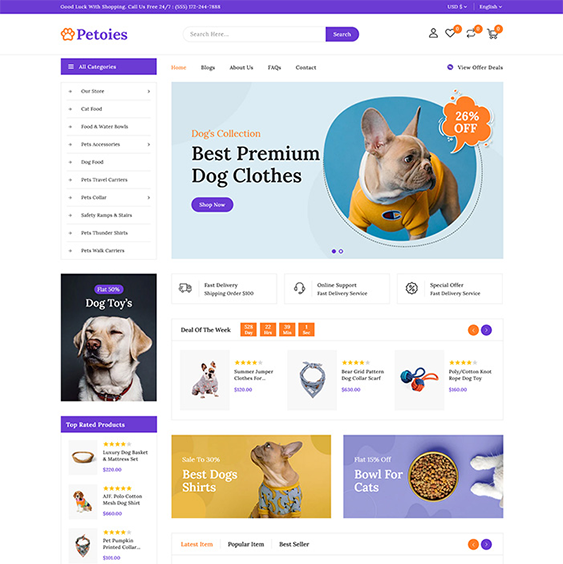 If you need to create an ecommerce site to sell pear gear and accessories for cats, dogs, reptiles, and birds, then you should check out this OS 2.0 Shopify template. Poties features support for multiple currencies and languages, a mobile-friendly vertical menu, advanced product search, product quick view, product comparison and wishlist features, a mobile-first design, advanced filters, product column variations, a blog module, HTML5 code, product image rollover effects, Google Fonts, SEO optimization, one click installation, easy customization, Ajax live search, a product carousel, unlimited banner sliders, PSD files, social sharing, and more.
Minion — Classic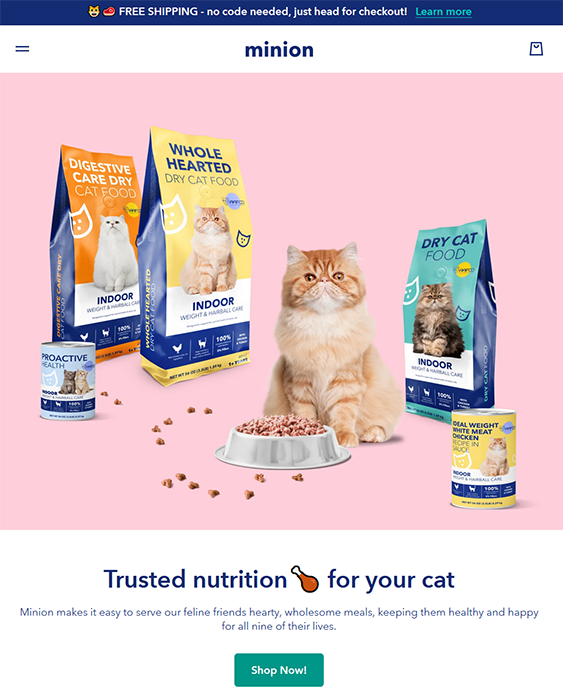 Minion — Classic is made for selling healthy cat food, and it comes with flexible customization and design options, 24 sections, three types of navigation, a mobile-first layout, a compact, fast, thumb-friendly design, dropshipper support, trust badges, galleries, sections ingredients and nutritional information, support for product videos, support for highlighting recommended and recently viewed items, speed optimization, and more.
Boost — Bloom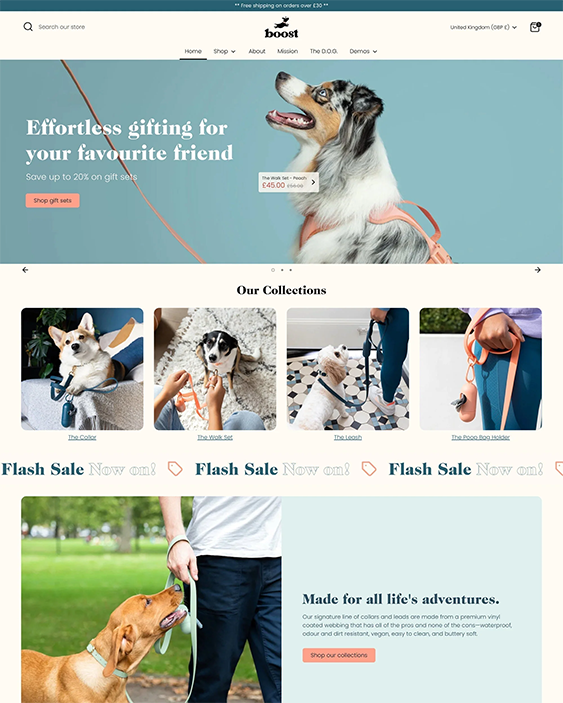 This online pet store Shopify theme includes immersive content, customizable promotions, feature-rich sections, SEO and performance optimization, advanced product filters, editorial content, and more.
Loft — Kansas City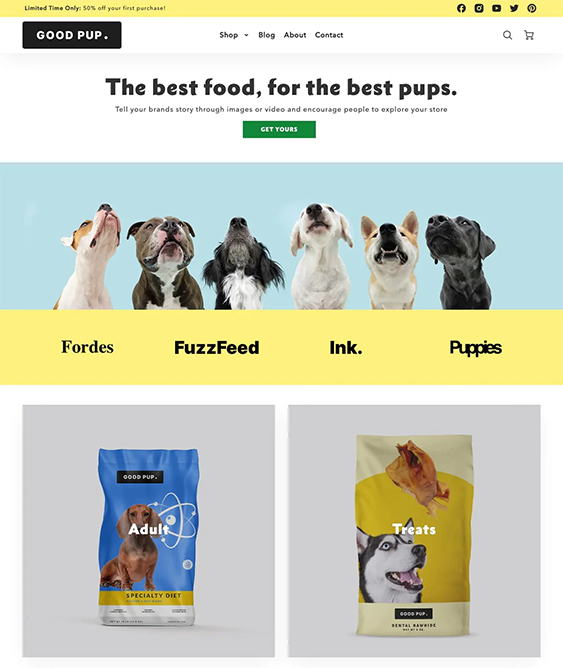 Loft — Kansas City is perfect for selling dog food and treats online, and it has support for brand storytelling, cross-browser compatibility, a responsive design, free high resolution photos, product tabs, photo galleries, promotion tiles and banners, and more.