If you're looking for a great way to match your store's shoppers with the perfect products, or you need a tool to help you learn more about your customers, you have to check out these quiz Shopify apps. These Shopify plugins allow you to create cool quizzes for your online store, and they come with useful features like multi-language support, responsive designs, support for video and images, detailed analytics, conditional logic support, and more.
Jebbit: Product Quiz Builder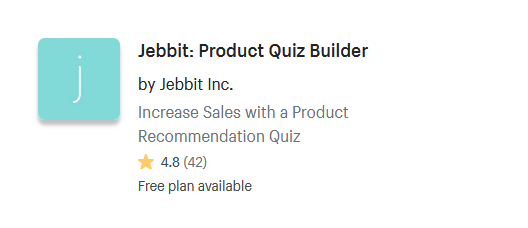 Jebbit allows you to build interactive quizzes your online store's shoppers can take to get the perfect product recommendations, making it a fun way for you to boost your sales and connect with your customers. Plus, this Shopify app comes with reporting and insights to help you track engagement and completion rates, website redirects, and captured leads, and it even gives you the ability to create surveys and personality quizzes for your customers to take.
Product Quiz Maker by Prehook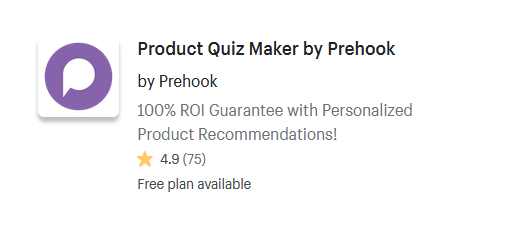 This Shopify plugin offers a user-friendly builder to help you create quizzes people can take to get personalized product recommendations, and it has a responsive design, so it's compatible with mobile devices like smartphones and tables. Prehook also features speed optimization, support for conditional logic, and Klaviyo, Postscript, and Attentive compatibility, and it even allows your customers to seamlessly add the recommended items to their carts, which can help you boost your business's conversion rates.
Quiz Kit | Custom Quizzes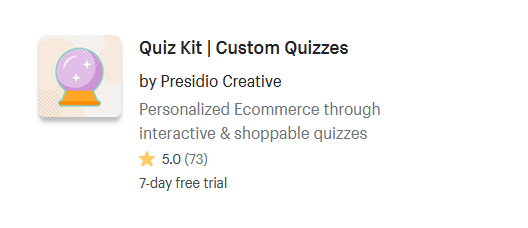 QuizKit offers a simple solution to help you create shoppable product quizzes that will match your customers with your online store's products, and it comes with support for Alloy, Smartrr, Klaviyo, ReCharge, Attentive, and PostScript. This Shopify app also includes customizable templates to help you build your quizzes, it features multiple logic options for recommending items, it allows you to offer discounts and promo codes to shoppers, and it has detailed reporting that will show you revenue metrics and usage analytics.
Visual Quiz Builder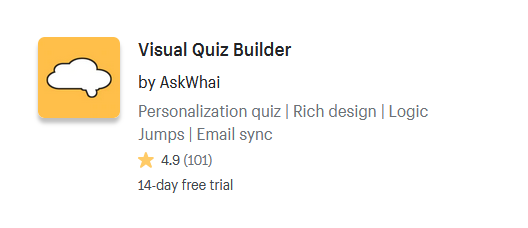 This Shopify plugin lets you build product recommendation quizzes, and it even gives you the option of adding images to the quizzes, so you can integrate fun visual elements into the questions. Visual Quiz Builder also offers support for multiple languages, including English, French, Arabic, German, Dutch, and Spanish, it comes with powerful analytics, it includes support for branching logic, it features lots of customization options, and it even gives your customers the ability to select multiple answers.
Shoppable Product Video & Quiz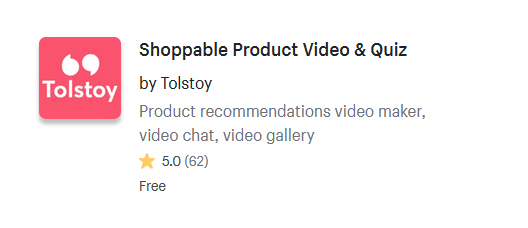 Tolstoy allows you to create shoppable quizzes you can add to videos, making it a unique and fun way for your customers to find the products that fit their needs. Plus, this Shopify plugin lets you embed your shoppable quiz videos into your company's SMS and email campaigns, and it comes with support for MailChimp, HubSpot, Zapier, Gorgias, Slack, and Klaviyo. Tolstoy also allows you to import videos from social media, it lets you monitor engagement and viewer choices, and it's very easy to install and use.