If you're looking for an inexpensive way to build an online store using Shopify, then you're probably wondering if there are any free themes available for this popular ecommerce application. Surprisingly, there are several free Shopify templates, with complimentary themes available for practically every industry! Not only do these free Shopify themes have responsive layouts, making them compatible with mobile devices like smartphones and tablets, but they also come with drag and drop page builders, so they're perfect for people who don't have a lot of experience building websites and online stores.
We've chosen our favorite free Shopify themes to share with you, and they include templates for selling food and drink, skincare, homewares, clothing, fashion accessories, footwear, sporting goods, art, and grooming products. These themes, combined with Shopify's free trial, offer a risk-free way for you to try out this awesome ecommerce platform before having to make a financial commitment.
Ride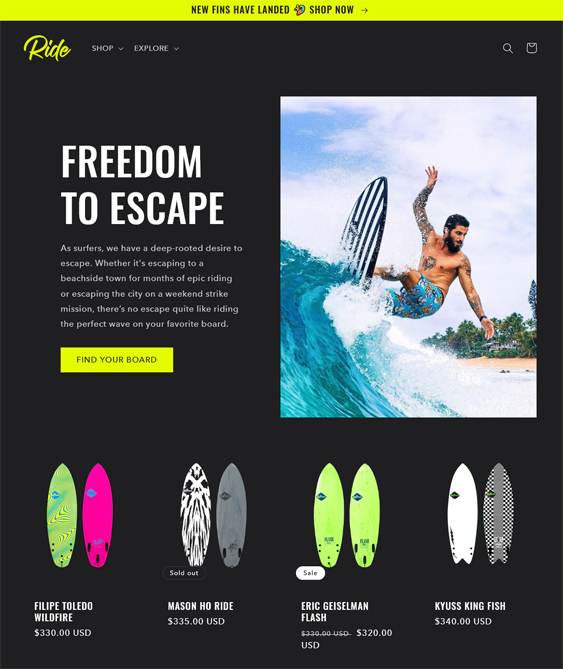 If you need to build an ecommerce website to sell sporting goods like surfboards, then you have to see Ride. This free Shopify theme has a dark design, and it offers a sticky header, a mega menu, quick view, unique page templates, asymmetrical layouts, advanced customization options, size charts, lookbooks, product video support, sections for usage, shipping, and delivery information, collection page navigation, enhanced search, image rollover effects, image zoom, an FAQ page, cross-selling support, quick setup, editorial content, visual storytelling, and more.
Sense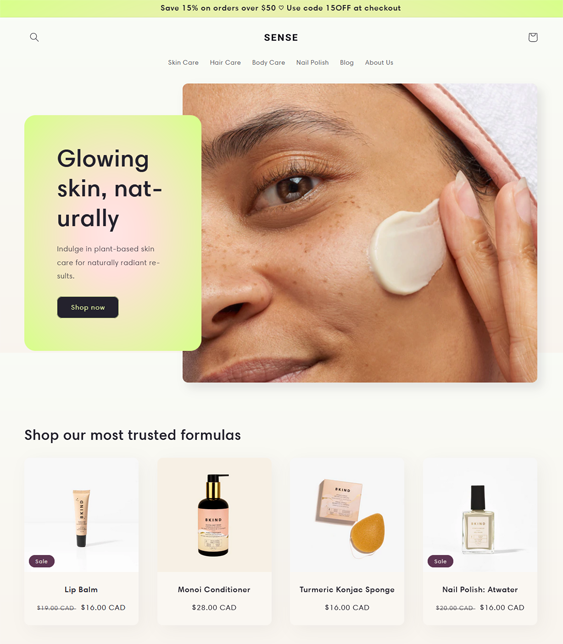 Sense is perfect for selling clean and natural cosmetics, skincare, makeup, and beauty products, and it features sections for videos, testimonials, and comprehensive product descriptions, flexible design and customization settings, a fresh color palette, a drag and drop page builder, OS 2.0 functionality, cart notes, blogs, press coverage, an FAQ page template, a quick buy feature, support for in-store pickups, promo banners, sections for ingredients and usage information, a slideshow, product filtering and sorting, and more.
Taste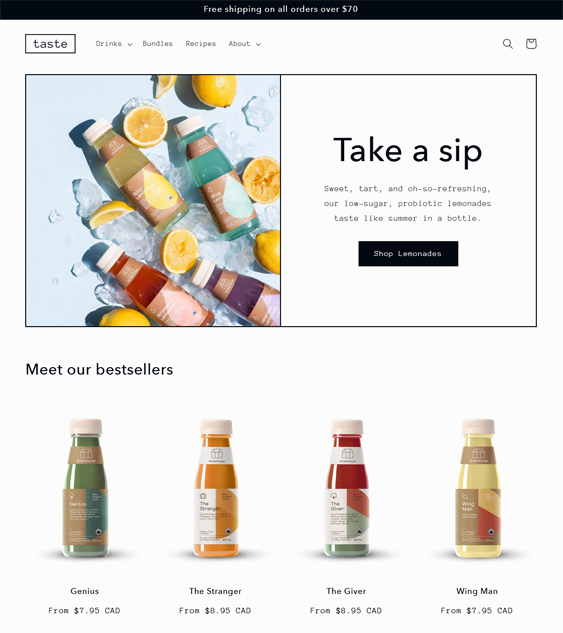 This free Shopify template is ideal for selling organic foods and drinks online, and it includes a minimalist design, product sections with support for large product cards, bespoke FAQs, and specialty product highlights, a high contrast color palette, industrial fonts, free high resolution stock photos, speed optimization, support for product reviews, banners, support for highlighting recommended products, a slider, a free trial, and more.
Studio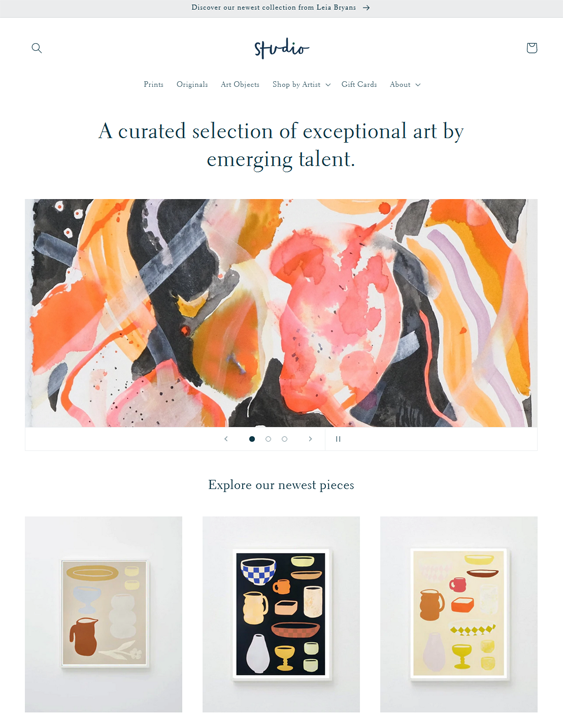 If you want to create an online store for an artist or gallery, then you have to check out this free OS 2.0 Shopify theme. Studio has stylish typography, colorful accents, collection-based navigation, creator filters, features collections for new arrivals and galleries, artist profiles, a drag and drop website builder with blocks for images, video,s products, and quotes, optimization for longer-form text sections, free theme updates, and more.
Crave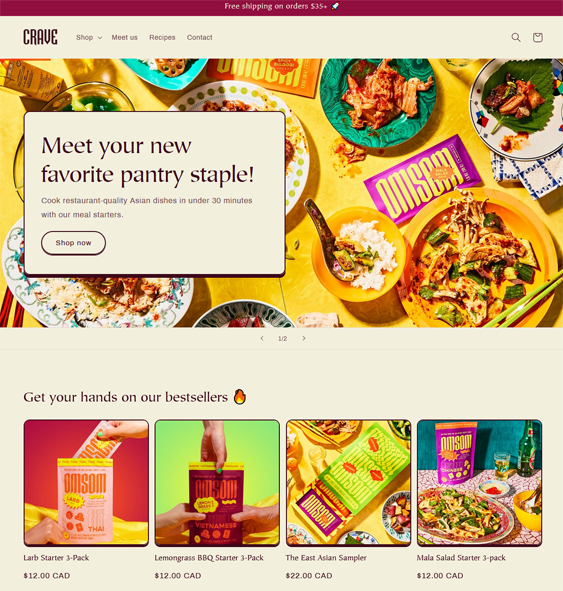 Crave is the perfect free Shopify theme for selling snacks and meal kits, and it comes with dynamic checkout options, easy customization, drag and drop sections and blocks for creating custom pages, support for visual brand storytelling, promotional banners, in-store pickup support, free stock photos, sections for ingredients and nutritional information, video support, product options, and more.
Colorblock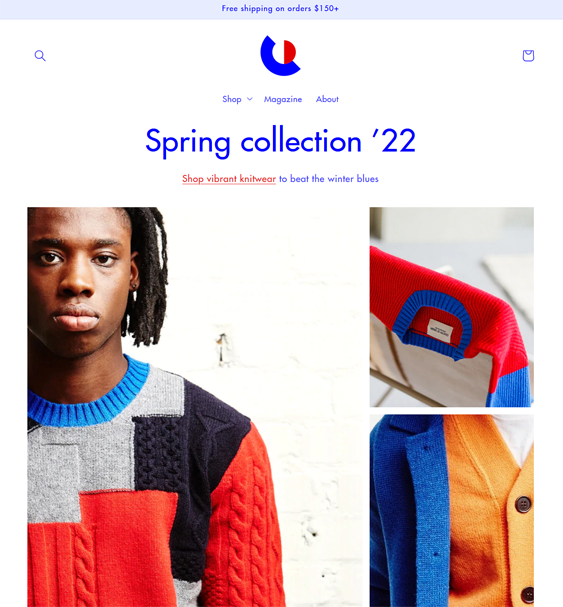 If you need to build an online clothing store, Colorblock is the perfect free Shopify template. Colorblock has a minimal design, support for large product catalogs, expanded menu navigation, advanced filtering capabilities, customizable blocks of color, atypical typography, drag and drop sections and blocks for images, products, videos, and quotes, a customizable contact form, cross-selling support, free stock images, sections for delivery and shipping info, and more.
Dawn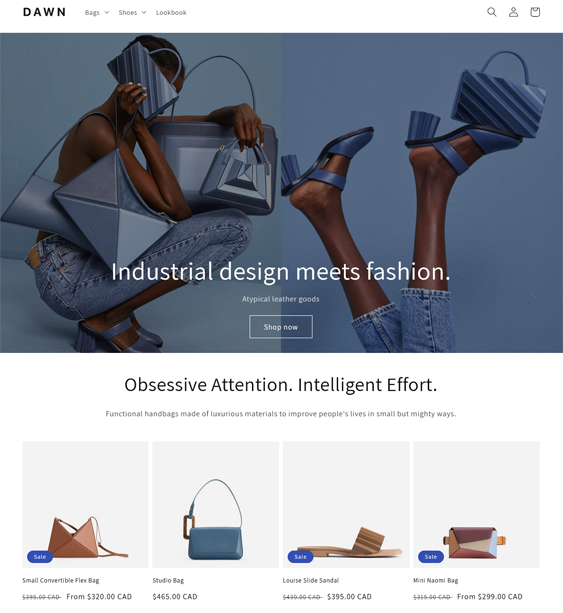 Dawn is made for selling shoes and fashion accessories like handbags and purses online, and this free Shopify theme features large imagery, simplified fonts, media-forward product pages, photo galleries, enhanced search, free theme updates, a responsive layout, cross-browser compatibility, and more.
Refresh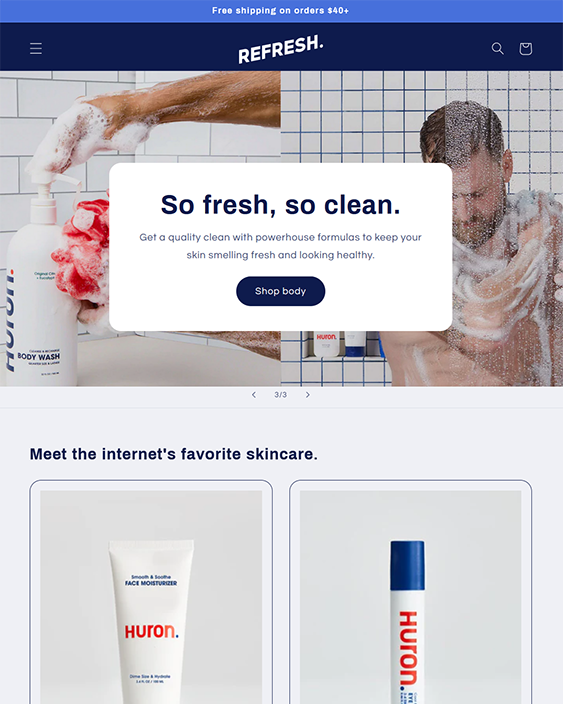 If you want to create an ecommerce site to sell grooming products and cosmetics for men, then Refresh is the free Shopify template you've been searching for. Refresh includes adaptive sections for sharing testimonials, quality information, special certifications, and ingredients, a minimalist color palette, assertive headings, flexible customization and design settings, a slide-out cart, galleries, video support, and more.
Craft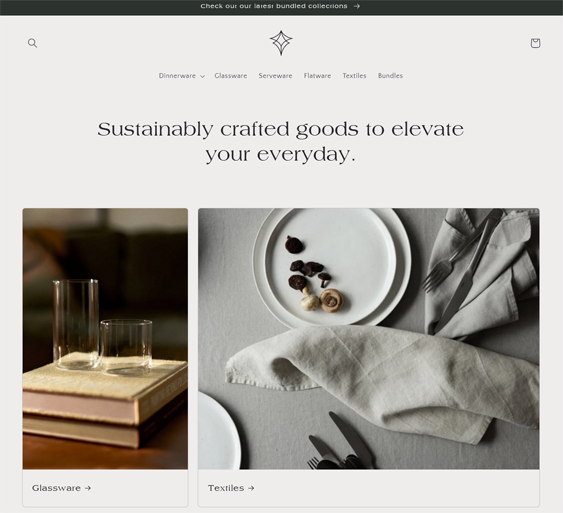 Craft is a great option for selling handmade homewares like glassware, textiles, serveware, ceramics, and dinnerware, and this free responsive Shopify theme comes with a clean design, elevated storytelling, generous spacing, elegant typography, a sticky header, product filtering, product options, image zoom, free high resolution stock photos, support for product videos, and more.