If you're interested in building an ecommerce website to sell equipment and gear related to camping, hiking, basketball, running, cycling, rock climbing, hiking, skiing, or fishing, one of the first — and most important — decisions you'll have to make is which platform you want to use to create and manage your online store. There are lots of different ecommerce applications to choose from, including OpenCart, Magento, Ecwid, WooCommerce, BigCommerce, and many more.
While they all have their strengths and weaknesses, Shopify is one of the most popular ecommerce platforms available today, largely because it comes with lots of features and is relatively user-friendly. Consequently, Shopify is a great option for online sporting goods stores, but in order to make sure it's the right application for you, we definitely recommend playing around with it before making a commitment. Fortunately, Shopify offers a free trial, so you can try before you buy!
In addition to a free trial, Shopify offers a wide range of themes you can use to create a beautiful and functional online store, and they even have a number of templates designed specifically for the sporting goods industry. While each of these themes offers different features, they're all mobile-friendly and they can be customized with the help of a user-friendly drag and drop page builder. Plus, a number of these sporting goods stores offer support for physical locations, so they're ideal for businesses that already have brick and mortar locations. To find the right theme for your sports shop, we've rounded up some of our favorites, and we've even outlined many of their features, making it easier for you to find the right one for your brand!
Pursuit — Telluride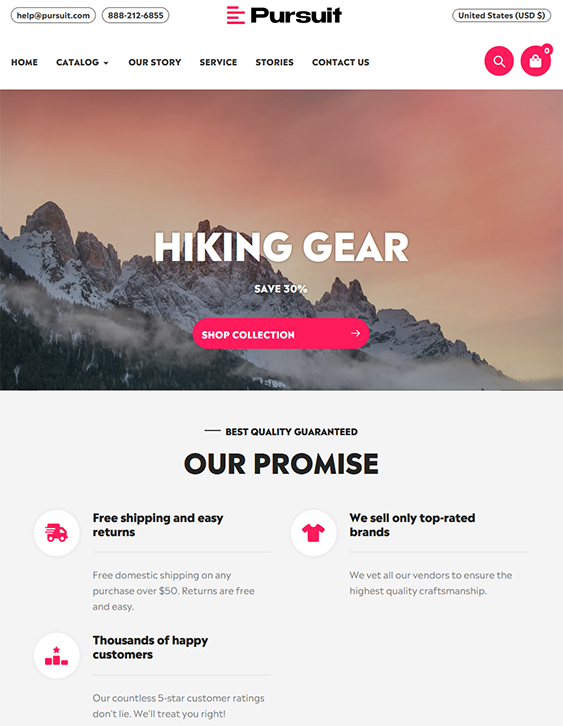 This OS 2.0 Shopify theme is ideal for online sports and recreation stores that sell gear and supplies for hiking, and it comes with support for flash sales, visual storytelling, color swatches, a "shop the look" feature, custom product tabs, galleries, product filtering, live search, lookbooks, mega menu support, a customization contact form, back-in-stock alerts, a quick buy feature, pre-order support, press coverage, EU translations for English, France, Italian, German, and Spanish, promo tiles, popups, and banners, trust and product badges, a store location, an FAQ page, infinite scrolling, a back-to-top button, sections for shipping, usage, and delivery information, image hotspot support, an unlimited free trial, and more.
Athens — Spoke
Athens — Spoke is made for selling cycling gear, including bicycles, jackets, water bottles, helmets, goggles, and caps, making it perfect for sporting goods shops. Plus, this responsive Shopify template features dropshipping support, 14 custom sections with multiple settings, speed and conversion optimization, support for physical locations, a mobile-first design, a drag and drop page builder, a slide-out cart, a contact form, support for product reviews, banners, a store location, blogs, in-store pickup support, image zoom, a slider, product sorting and filtering, a sticky header, free theme updates, and more.
Pursuit — Vail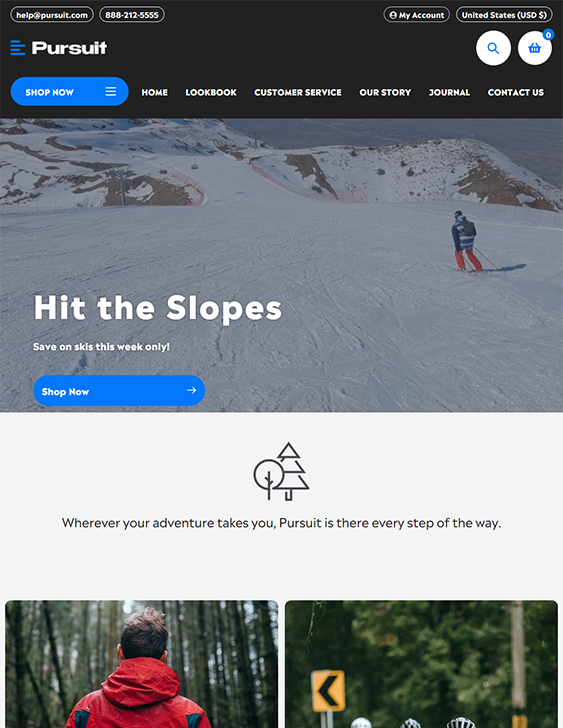 If you need to create an online sporting goods store, then Pursuit — Vail is a great option. This Shopify theme is made for selling gear for cycling, hiking, skiing, and rock climbing, and it offers in-menu promotions, quick view, support for sharing recommended products, review support, product image rollover effects, swatches, free high-resolution images, tabs, product options, a slideshow, size charts, enhanced search, cross-selling support, an unlimited free trial, flexible blocks for quotes, videos, images, and products, and more.
Habitat — Sportive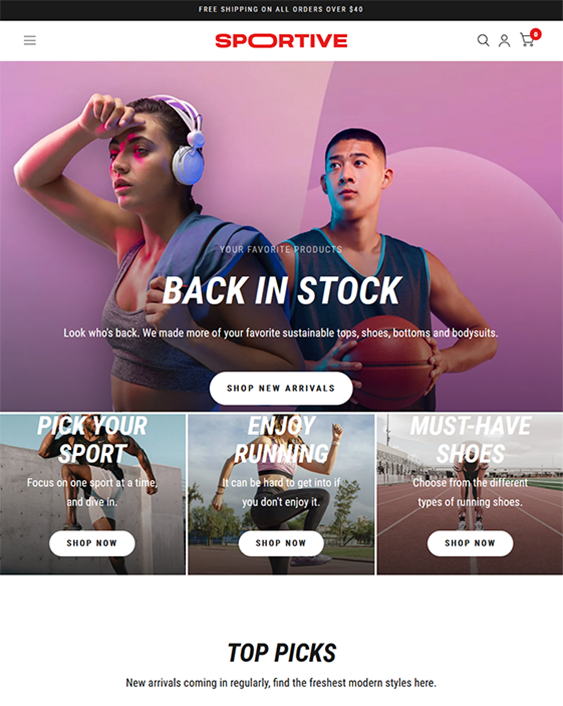 Habitat — Sportive is designed for stores dedicated to selling items related to basketball and running, and it comes with support for members-only stores, quick setup, conversion-optimized templates, a drag and drop website builder, sections and blocks for creating custom pages, promotional banners, tiles, and popups, animations, free stock images, product filtering and sorting, a non-expiring license for one store, a clean design, a responsive layout, and more.
Pursuit — Aspen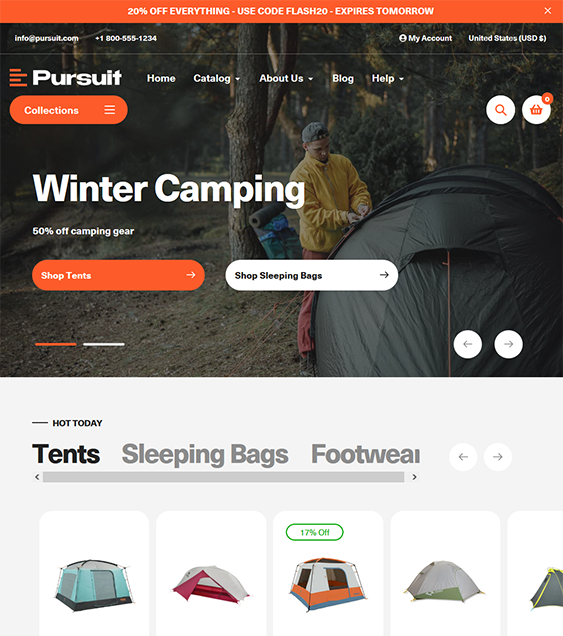 This mobile-friendly Shopify template is made for selling camper gear like backpacks, fishing rods, hiking boots, climbing harnesses, lights, chairs, hammocks, lanterns, tents, and sleeping bags. In addition to a responsive design, Pursuit — Aspen has enhanced navigation and search, flash sale support, drag and drop blocks and sections, support for cross-selling, product badges, collection page navigation, infinite scrolling, and more.